British Isles Share Plan Symposium 2023
The Centre's Sixth British Isles Share Plan Symposium will be an in-person event at Macfarlanes' London offices on the afternoon of Thursday, 30 March 2023. The event will comprise four panel debates, running from 13:30 to 17:20 followed by a reception, at which the newspad Award winners for 2022 will be announced. The speakers' presentations will be pre-recorded and form the background material for what we hope will be lively panel and delegate discussions.
In a keynote speech, Investec Bank Economist Ellie Henderson will set the scene with an overview of the current domestic and global economy.
In the three panels that follow - on Global Economics And Share Plans; Regulation & Governance; and The Future Of All-Employee Share Ownership Plans And Share Plans In SMEs - panellists will discuss presentations on share plans and inflation; Global share plans and whether US Esop transactions can be adapted for use in the UK; Global and UK updates on regulation and market developments; Private company governance issues in relation to EMI and CSOPs (including recent HMRC guidance on the exercise of Board discretion) ; the future of SAYE including maturing "Covid" plans and how CGT affects them (including a recent case study); Incentive arrangements for Smaller/private companies and the use of EMI in conjunction with An EOT; Potential employee share plan reform.
Panel four will be dedicated to a plan issuer case study looking at post-IPO plan launches including UK SIP, ESPP and Approved & Unapproved executive option plans; how they launched, how they're performing, what the future looks like for the company's equity compensation.
The symposium will hear from speakers representing Achilles Therapeutics; Baker McKenzie; CMS; Computershare; David Craddock; Doyle Clayton; Drax; Equiniti; Investec Bank; Sixti; Tapestry Compliance and symposium host Macfarlanes.  
Please review the event brochure for up-dated programme details and booking form.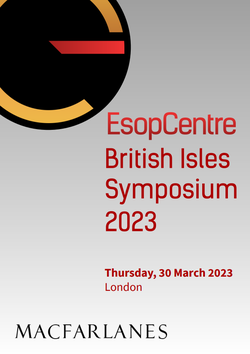 Centre conferences are celebrated for their level of speaker expertise and equally for the quality of their networking opportunities.
Admission rates:
Delegates from plan issuer companies will be admitted free of charge.  
Practitioners: Members: £425   Non-members: £625
Trustees: Members: £360  Non-members: £560
Multi-booking discount: 50% off cost of ticket for your third delegate.
*All prices are subject to UK standard rate VAT  
(Thanks to the generosity of our host Macfarlanes, we have been able to keep prices low).
There will be opportunity to attend remotely should you not be able to travel to London.
To register a delegate email events@esopcentre.com
or phone the team on +44 (0)207 562 0586
All bookings are subject to our terms and conditions.
| When | Who | Where |
| --- | --- | --- |
| Date: 30 March 2023 | The Esop Centre | Macfarlanes |
| Time: 13:30 - 18:30 BST | Phone:+44 (0)20 7562 0586 | 20 Cursitor Street |
| | Email: esop@esopcentre.com | London, EC4A 1LT |
| | | United Kingdom |
Google Map of event venue: